by Charles Carreon
February 15, 2017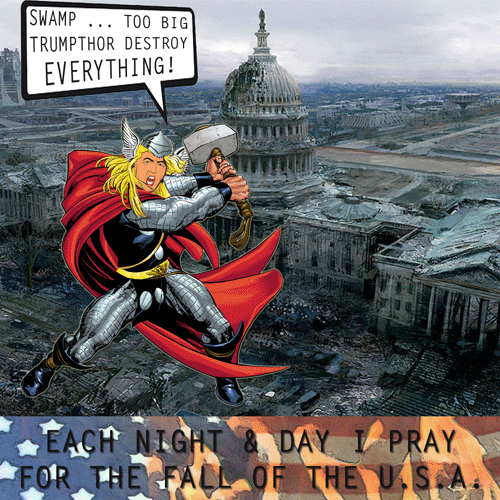 Each Night & Day I Pray for the Fall of the U.S.A.
[Trump] SWAMP … TOO BIG. TRUMPTHOR DESTROY EVERYTHING!
— by Tara Carreon
The nation's self-image has suffered a blow from which it will never recover – the President's weird hair flip is the new logo for "USA" on every TV in the world, pushing aside the Stars and Stripes.  Trump's flip is as recognizable as a Coke can, and far more menacing to the world's governing elite.  President Donald has put the world on notice that the U.S. Presidency is his job to do as he pleases.
Campaign slogans like "drain the swamp" have been traded for "buy Ivanka's stuff."  What swamp?  Damn Nordstrom!  Of course the Goldman guys are in charge of the gold!  Must we talk about women again?  Look, the good old days at Studio 54 are forgotten – abortions are verboten.  Energy?  The national parks are being carved up for immediate exploitation in a big way.  Criticism?  Those who don't like our program will be acquainted with the business end of a pitchfork.  None of this is what you'd expect from a man who ran as the sworn enemy of Washington corruption.  He seems born to it.
Who'da thunk it?  He lied.  But I don't hear a swelling rebellion from the trailer parks, the suburbs, the Walmart parking lots.  Those angry white guys wanting a fair shake aren't worried about the swarm of Wall Street bankers pouring into the Trump Administration.  Why?
The entire ship of state is listing backwards into the past, the far past, like Reconstruction.  Under Republican rule, realities can change very quickly.  A little nudge with controlled demolitions, and the dominoes started falling after 9/11: Afghanistan, Iraq, Guantanamo, Abu Ghraib, NSA domestic spying, all metastasized during the Cheney Years.  Now, thanks to the incredibly stupid children's crusade that passed for Hillary Clinton's campaign, the USA is once again trussed up like a submissive at a BDSM party, ready to provide complete satisfaction for plutocrats now dressing without shame as total Nazis.
A lot of people are sure that there's going to be a great big rebellion.  Kathleen Parker gives Trump's impeachment an ETA of 2018, at the latest, when she predicts a protest vote more powerful than a soccer mom's backhand will give Democrats a Congressional majority in both houses, and remove all vestiges of Trump from the Oval Office, if the occupant is not by then already President Pence.
I'm not so sure.  I note that sales of "It Can't Happen Here" have surged 12,000% since Trump took office.  Sinclair Lewis' demagogue is Berzelius "Buzz" Windrip, a homespun, straight-talking politician with the confidence of a carnival barker, who rises to power on a populist platform, and implements a corpocratic dictatorship with brownshirts, clubs, and all the good stuff.  There are uncannily close parallels between Buzz Windrip and Donald Trump, and many of us have been waiting all of our lives to see how it would play if an economically devastated white, male voting public were given the chance to vote for Buzz – or Donald.  Since we now have the answer to that question, we move to the next one.
Might it be possible to organize all the bigots now polishing rifles in anticipation of defending their homes against rampaging hordes of illegals?  Perhaps they could be offered jobs policing and transporting illegals and other undesirables out to the border wall?  And running the internment camps that will have to be set up in every community to manage the outbound migration.  Since there are large numbers of Americans who believe that the country is under threat, and who are familiar with the use of weapons and security equipment, they actually stand ready to be recruited to imprison their fellows.
In a relatively plausible scenario, these people could be recruited anonymously and secretly, and organized into neighborhood cells.  Before launch day, their neighbors wouldn't know what was being already prepared.  One day, the neighborhood cell would all get emails, and in unison, begin patrolling the neighborhood as a security force, and assist in the immediate arrest and deportation of illegals and other undesirables.
If this scenario were in force, it would be logical to take it all the way up the chain of command, and take over power stations, government offices, and transportation facilities.  It would be a flash Blitzkrieg.  Hitler would be impressed with the efficiency, at how the communication system could be used to take over the system it was intended to serve.
Anyone can see that implementing these scenarios is well within the realm of the possible, and could be used to establish paramilitary, dictatorial rule with the active participation of a minority of citizens to procure the surrender of the majority.  We tend to think that so long as a majority of the people would not approve of such a shift in power, it could not happen, but that is not correct.  All it requires is for people with strong, malevolent intent to work diligently to spring the trap, using the power of surprise and state-sanctioned lethal force.
I can hear the huffing and puffing from people who reject all such scenarios as utterly absurd, an impossibility.  One question?  Did you predict that Hillary would win?
Burn
by Rancid

13 red and white stripes flying
White for skin and red for dying
Why can't i
Walk on through
And not feel like
One is in hell
We don't need no water
Let the motherfucker burn